Dubai, UAE; 23 November 2020: Ithra Dubai, a leading real estate developer fully owned by the Investment Corporation of Dubai, announced the launch of DEF, The Deira Enrichment Festival,  a series of activations taking place at the Deira Enrichment Project.
The activities kicked off on November 19th at the recently launched Sherina Plaza. For twelve consecutive weekends, tenants and visitors are invited to choose from a bundle of family activities and entertainment options.
Every Thursday between 4 and 10 pm, and Friday and Saturday between 2 and 10 pm, families can lounge on bean bags and watch movies projected on an 85 inch screen at the outdoor cinema, or pick from a giant game of chess and a giant Jenga. A bouncy castle is also available on the grounds for younger children and all activities are supervised by a promoter on site. Visitors also enjoy a variety of street food and treats such as cotton candy, popcorn and sweet corn as well as juices and slushes. All precautionary measures with respect to safety and sanitization, including social distancing, are being implemented in line with the requirements of the Ministry of Health and Prevention and the Dubai Municipality.
Ithra Dubai ensures that its developments serve the collective interest of the community and has designed the Deira Enrichment Project to benefit families and businesses that make up the social fabric of the area.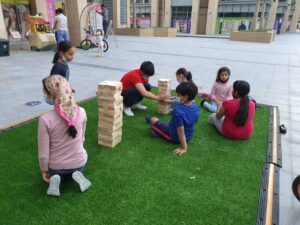 Lachlan Gyde, Executive Director, Asset Management at Ithra Dubai, said: "Deira Enrichment Project maximizes the district's potential and breathes new life into the Emirate's original community centre and trading hub while preserving its unique character and heritage. This kind of activation will bring the neighborhood together, establishing the area as a livable space where families and businesses can strive."
Deira Enrichment Project is being built in two phases spanning over eight years. When complete, it will open the area and create residences for over 31,000 people
.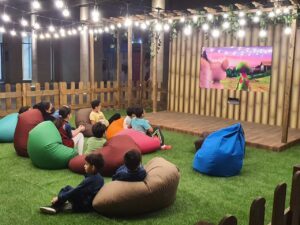 District 3, Sherina Plaza of Phase 1 is the first launched property within the massive mixed-use development. It features 350 residential 1,2 and 3 bedroom units, ranging from 861 to 2,680 square feet, one four-star hotel, with 290 keys managed by Wyndham Hotels is now operational, along with 45 restaurants and retail units, and 116,589 square feet of office space opening soon.
Ithra Dubai will soon be launching districts 1, 2, 11 and 13 of Phase 1, equally consisting of mixed-use facilities and boasting of lush green areas and ample parking spaces. Plots 11 and 13 are dedicated to the Gold Souk Extension and designed to suit the unique needs of gold traders and precious stone merchants.